Play
Goodreads
Genres:
Contemporary
Series:
Stage Dive #2
Kylie Scott returns with the highly anticipated follow-up to international bestseller LICK Mal Ericson, drummer for the world famous rock band Stage Dive, needs to clean up his image fast—at least for a little while. Having a good girl on his arm should do the job just fine. Mal doesn't plan on this temporary fix becoming permanent, but he didn't count on finding the one right girl. Anne Rollins never thought she'd ever meet the rock god who plastered her teenage bedroom walls—especially not under these circumstances. Anne has money problems. Big ones. But being paid to play the pretend girlfriend to a wild life-of-the-party drummer couldn't end well. No matter how hot he is. Or could it?
We  LOVE Kylie Scott so much that we ALL reviewed this sexy book!!
Erin's Review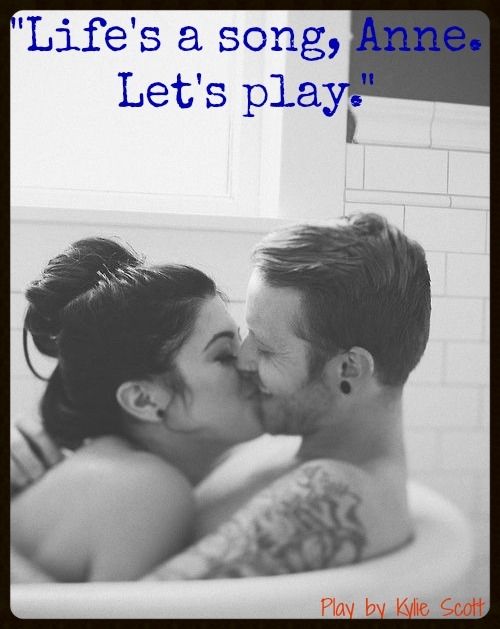 Oh boy, oh boy!! I LOVE these books and Kylie Scott! If I could bottle up the feelings I get when I read her books, I'd be one happy book addict.
Play is Mal (the drummer) and Anne's story. We met Mal in Lick, and we all fell in love with him then. Now in Play we REALLY fall for him. He is not only SEXY but super witty and funny. There were parts when I was cracking up in sex scenes, and you would never think that works, but Kylie makes it work!!
"Hello, Anne's clitoris. It's me, Malcom, your lord and master."

"Oh, God, no." I covered my face with my hands. "Please don't."

"Shh. This is a private conversation."
Anne is so damn cool. The reason I read, is to connect with my characters and I connected with Anne. Kylie's leading ladies are not these drop dead gorgeous beauties. Anne is awkward, sweet, funny and a normal chick.(who is lucky enough to find Mal)
"But if he did lie on his stomach the long line of his spine would be on show with the bonus addition of his ass. I'd sell something important to see his bare ass. My books, my e-reader, my soul, whatever was necessary."
The sexual tension in this book is sooooo good. You have to read it to find out what I mean 😉
Being that this is a 2nd book in a series. You would think it would be a lot like the first couples story, but its not. Mal and Anne's story is totally their own!
Kylie Scott has climbed my top authors list. Automatic one-click for me.
Cant wait for Lead Jimmy's book.
Kristi's Review
Play by Kylie Scott
My rating: 5 of 5 stars
Poor Anne has had her fair share of bad luck in life and she first meets Mal at a particularly low point. Frankly, she has a history of being a doormat but she has an inner confidence and backbone, so she never came off as weak. She is also deliciously awkward and has a huge heart. I LOVED that Anne was totally into Mal but she didn't fall at his feet.
"What's your name?" he asked, joining me at the railing. God, even his voice felt good. The little hairs on the back of my neck stood on end with delight.
"My name?"
"Yeeeah, your name," he drawled. "The point of me telling you my name, even when you already knew it, was so you'd give me yours. That's how these things go."
"You knew I knew?"
"The crazy eyes kinda gave it away."…
"I didn't really get a crazy look in my eyes, did I?" I asked, dreading the answer.
"Yeah, you did."
Crap.
Malcolm "Mal" Ericson was just so effin funny and playful but he had this sweet…innocence to him that I loved. He is moody, sexy, heart-warming, and quite possibly manic! He also has a secret. He likes that Anne will stand up to him but is also obviously crazy about him. To say I loved Mal is a SERIOUS understatement!!!
"Whatever you're imagining, it's bigger."
" I'm not imagining anything."
"I'm serious, it's basically a monster. I cannot control it."
"Malcolm…"
"You're pretty much going to need a whip and a chair to tame it, Anne."
"Stop it."
~LMAO
In an effort to help each other out, they become roommates and their relationship is anything but normal or boring. For me, the banter and witty dialogue was perfection. Sometimes I read books with lots of humor and they lose there depth. I didn't feel that with play at all. When Mal was being serious, even though he was still funny, it was not cheesy or lacking. Also, the sexual tension…my GAWD!!
Kylie really has a way with words and storytelling. I cannot WAIT for Lead (Stage Dive #3) which is Jimmy and Lena's story.
"Life's a song, Anne. Let's Play."


Kathy's Review
OMG…….Mal freaking Ericson!!!!!! I ❤ him so much!!!! I don't think I've ever been so smitten with a boy in a book! I just want to write his name on the front of my notebook and surround it with little hearts. He is the perfect mix of sexy and playful. Mal had me giggling like a little school girl. He was just so funny. I really loved David and Ev in Lick, but I LOVED Mal and Anne in Play even more if that's possible. Anne had the biggest heart, but yet didn't fall at Mal's feet which he is used to. They had an obvious sexual tension, but also a real sweetness that had you rooting for them. Mal's witty banter was written so well making Kylie Scott a new favorite author of mine! I can't wait to read the next book in this series! I give Play 5 ++++ stars. I really did love it that much!
Related Posts