Love, in English
by
Karina Halle
Buy on Amazon
Goodreads
Genres:
Contemporary
,
New Adult
,
Romance
Series:
LIE #1
He's thirty-eight. I'm twenty-three.

He speaks Spanish. I speak English.

He lives in Spain. I live in Canada.

He dresses in thousand-dollar suits. I'm covered in tattoos.

He's married and has a five-year old daughter.

I'm single and can't commit to anyone or anything.

Until now.Because when they say you can't choose who you fall in love with, boy ain't that the f*#king truth.

***

To a restless dreamer like Vera Miles, it sounded like the experience of a lifetime. Instead of spending her summer interning for her astronomy major, she would fly to Spain where she'd spend a few weeks teaching conversational English to businessmen and women, all while enjoying free room and board at an isolated resort. But while Vera expected to get a tan, meet new people and stuff herself with wine and paella, she never expected to fall in love.

Mateo Casalles is unlike anyone Vera has ever known, let alone anyone she's usually attracted to. While Vera is a pierced and tatted free spirit with a love for music and freedom, Mateo is a successful businessman from Madrid, all sharp suits and cocky Latino charm. Yet, as the weeks go on, the two grow increasingly close and their relationship changes from purely platonic to something…more.

Something that makes Vera feel alive for the first time.

Something that can never, ever be.

Or so she thinks.
Look out book world! Karina Halle wrote a contemporary romance and it kicks ass! If I could give it 10 stars…I would. I LOVE reading her books. Vera and Mateo are awesome characters. I fell in crazy love with the both of them. The supporting characters were awesome too. I think my favorite of those, was her brother Josh. Trust me, you all will fall in love with him too <3 Vera is super cool. By no means is perfect. She has her flaws, but owns everyone of them. She's a 23 year old astronomy student who goes off to Spain to teach English to businessmen and women. That is where she meets Mateo. Oh…Mateo <3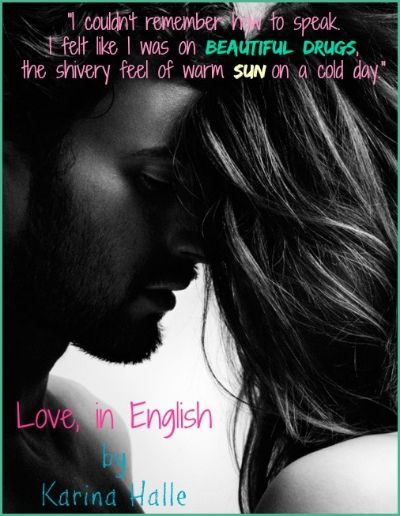 Mateo is sweet and f*cking hot!! He has temper that will get your blood pumping! Yes, Mateo is married. But have no fear and don't let that stop you from reading this amazing, beautiful and angsty love story. You HAVE to read this!!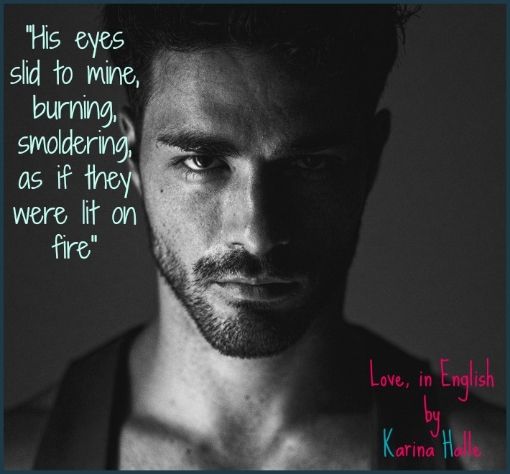 I am a huge Karnia fan and I think this one of her best books. I have no doubt that people are going to go crazy over Vera and Mateo. So search no further people! Get your book high on, on release day April 20th.
Book Trailer
Pre-order link:http://amzn.to/1newjFC
Love,in English playlist  http://www.youtube.com/playlist?list=PLrpTL1nLmofFRX263Hx8vBvd_VbLMEsvE
*ARC provided by author for honest review*
Related Posts