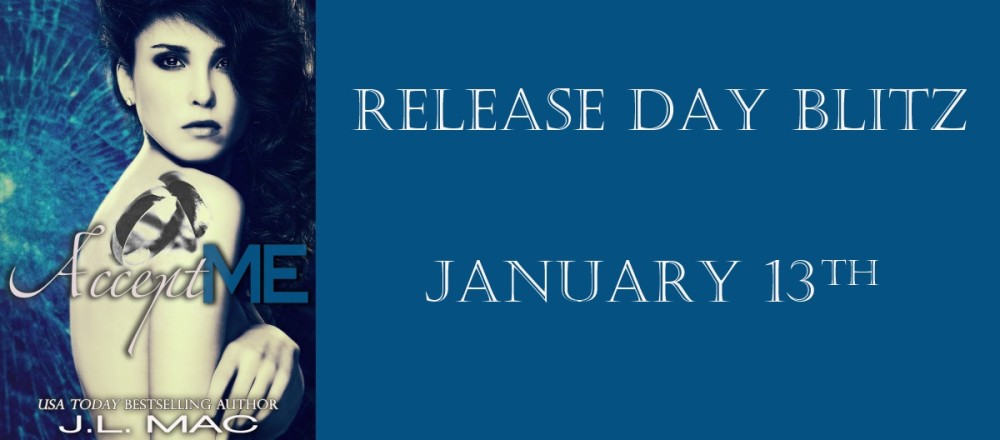 Happy Release Day to J.L Mac and the third book in the Wrecked Series – ACCEPT ME!
Amazon † B&N † Smashwords †

Kobo




For the first time in her life, 25-year-old Josephine Geroux has a future worth looking forward to. She has her beloved bookstore, she has all the comforts that money can buy, she has found the love of her life, and most importantly, she has found hope where there was none for 16 long years.
After the tragic deaths of her parents and her troubled life as an orphan, she met Damon Cole, a man who has everything to do with it all. He's part of the reason for her wrecked life, but he's also the reason that her heart has been restored. He's her future and the exact reason that she's so willing to fight the demons from his past that threaten the very future that she so desperately seeks.
In the final book of the Wrecked series, Jo is confronted with a turbulent history that has her negotiating the twists and turns that end up being far more difficult to handle than she ever could have anticipated. Jo's relationship with enigmatic Damon is delicate at best, especially after she inadvertently discovers details about his life that may have been better left buried.
Since Damon's dark past has remained hidden for so long, Jo's investigation puts her dangerously close to jeopardizing her already fragile relationship with the man she loves.
Jo has a promising future at her fingertips; she must decide if revealing the truth to Damon is a gamble she's willing to take. With so much at stake, acceptance proves to be Jo's greatest battle to date.

I make my weary way upstairs to our new master suite to find Damon already showered and dressed, or shall I say undressed, for bed. He's lying across our mammoth bed in nothing but those yummy little trunk underwear. They hug and hold tight to every delicious curve of his…assets. The bulge of his considerable girth is evident even when he's relaxed. The elastic fabric clings and cups him so perfectly that my fingers feel a little itchy. It's a hell of a sight that has my mouth watering for the salty velvet taste of him on my tongue.
I pause at the door and take a moment to breathe in the sight of him. He's watching me watch him and the air between us grows heady and thick all at once.
"Get over here. I need to be inside my future wife," he orders in a composed voice, ripe with the guarantee of pleasure.
Without saying a word, I stroll across the space between us. Damon sits upright and swings his legs off the side of the bed, inviting me to stand between his bare, beefy thighs. I do as he silently ordered. His hands envelope each of mine at my sides and drift slowly up my naked arms, coming to a halt at my neck. His fingers curl around the nape of my neck as the other hand cups my jaw. I'm pulled closer to him, our faces only millimeters apart. His heavy eyes slide shut. It's clear that my Big Man is doing what he does so frequently. He's savoring this. He's savoring me. He's taking his sweet time because more often than not, that's just how he prefers it. My lips are achingly close to his. As many times as I've felt the fullness of his mouth covering mine, it never gets old. I edge my head forward, hoping that my wanton lips can coax his perfect mouth into giving me what I long for. The grip he has on the nape of my neck tightens fractionally, keeping me in place. It keeps me deprived of what I want and only works to cultivate my appetite for all of him. Just as he wants me. Damon is a calculated man. He has a purpose and a plan for everything he does. Even in the bedroom. His hand on my neck is a subtle way to control and direct me. I happily accept his control over my body.
"You have to get this wedding planned," he says hoarsely. "I don't know how much longer I can wait to make you my wife."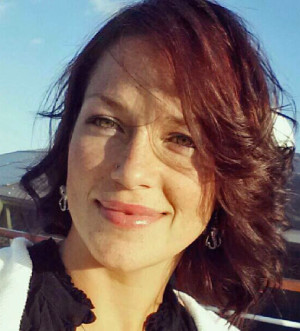 USA Today Best Selling Author,J.L. Mac is twenty-seven years old and currently resides in El Paso, Texas, where she enjoys living near her family. She was born and raised in Galveston, Texas. J.L. admittedly has had a long and sordid love affair with the written word and has loved every minute of it. She drinks too many glasses of wine on occasion,and says way too many swear words to be considered "lady-like." J.L. spends her free time reading, writing, and playing with her children.
---
SERIES READING ORDER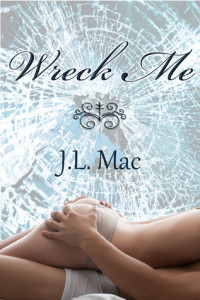 Synopsis
Life can be cruel. People can be ruthless and evil. The world can be cold and uninviting. No one knows these things better than Josephine Geroux. By her own definition, she is a twenty-five year old "nobody with nothing," and she is content to stay that way. Growing up an orphan has made her tough and indifferent to the people around her until she meets a strangely familiar man with a face that haunts her for reasons she can't understand.
Despite the pain that will inevitably ensue, she makes it her mission to discover what parts of her tragic puzzle she is missing. On her journey to discovering why the she feels an alarming connection to an absolute stranger, her greatest fear is reawakening the demons and darkness from the past that will surely overtake her if she lets her guard down.
Little does Josephine know that the past should be the least of her worries. She is toying with a man who has already broken her heart once. She just doesn't realize it.
Although she makes it a point to avoid interactions with others, Josephine's life becomes entangled with the enigmatic stranger. Before she realizes it, she has given herself over to the one person who is close enough to wreck her.
Related Posts